Social Security Disability Benefits Guide
Social Security disability benefits can provide for families when an injury, illness, or disability prevents an individual from working and earning an income. Applying for these benefits is often seen as a cumbersome process, however, requiring several steps, a slew of complicated paperwork, and even in-person hearings.
The Social Security Disability Benefits Guide explains the purpose and intent of Social Security, as well as lists the qualifying list of impairments for adults and children. The guide site also contains an interactive and adjustable calculator on the main page which breaks down qualifications and the application process, as well as a calculator that can help estimate monthly and annual benefits. This resource is available from an independent personal finance website.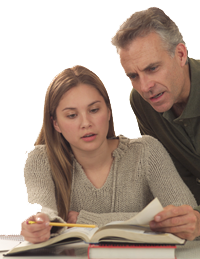 New Parent Transition Survey
The New Parent Transition Survey was originally created by a local transition council and updated in 2014 by Lisa Fournier in Massachusetts. The purpose of the survey is to assist in identifying the throughts and preferences of parents and/or family members for a student once high school is over.
This resource is available from the National Technical Assistance Center on Transition (NTACT).
Children's Special Health Care Services Parent's/Caregiver's Transition Worksheet
The Children's Special Health Care Services Parent's/Caregiver's Transition Worksheet is an introductory survey that was designed to assist in the planning for a youth's transition to adulthood. The survey enables parents to indicate their child's needs in health care, financing, functional living, and employment/vocational training.
This resource was adapted from the University of Illinois at Chicago, Division of Specialized Care for Children by the Michigan Department of Education.
Download the Children's Special Health Care Services Parent's/Caregiver's Transition Worksheet (PDF). PDF files can be accessed with the free Adobe Acrobat Reader software.
Transition Milestone Skills Lists & Other Resources
The Transition Milestone Skills Lists and resources contain a variety of checklists that are designed to help parents and their child with disabilities prepare for adulthood. Included are a transition timeline and individual checklists that address health care, independent living skills and work resources. All of the resources are available in English and Spanish.
The checklists were developed by the University of Illinois at Chicago's Division of Specialized Care for Children.
MyLife Software
MyLife is a free student-centered, downloadable program that was designed as a resource for students, families, educators or others to use in making plans for the future of a student with a disability. Students type answers, with or without assistance, to prompts about their life inside and outside of school. The program enables them to answer questions about their preferences, interests, needs, and strengths.
The program focuses on "Planning Ahead by Planning Backwards" by giving the student the chance to save and print a copy of their responses for the teacher to use when writing Transition Plans and Individualized Education Programs. Key questions serve as prompts to elements of a comprehensive plan that can then be embedded into the student's IEP. This program can be accessed in more than one session, depending on how much the student chooses to expound upon each answer.
This resource is through the Ohio Department of Education.
Download the MyLife Individual Transition Planning Tool (EXE). EXE files are compressed and will decompress once opened.
Download A Read Me First File (DOCX). Microsoft DOCX files can be accessed through the Microsoft Office program or a free, open source software program like Apache Open Office or LibreOffice.
Air Self-Determination Scale
The AIR Self-Determination Scales offer assessment surveys for students, educators, and parents that will produce a profile of the student's level of self-determination, identify areas of strength and areas needing improvement, and identify specific educational goals that can be incorporated into the student's IEP.
The American Institutes for Research (AIR), in collaboration with Teachers College, Columbia University in New York City, developed the student, parent, and educator versions of the AIR Self-Determination Assessments with funding from the U.S. Department of Education, Office of Special Education Programs.
Supporting Families of Individuals with Intellectual & Developmental Disabilities
This is a menu of the LifeCourse tools for individuals, families, and professionals. The column on the left lists tools for having conversations with individuals and families about a vision for a good life and how to achieve it. The corresponding handouts in the right hand column are intended to be used to supplement, further understand, and generate ideas when using the tools on the left.
The Charting the LifeCourse framework was originally developed by families for families by the staff and stakeholders of Missouri Family to Family.
I'm Determined: Self-Determination Toolbox
One of the many resources offered by the Virginia Department of Education's  I'm Determined project, this toolbox is a 44-page document that offers dozens of short assessments and activities designed to help students and/or their parents  explore and measure their self-determination skills as well as become more self-determined, including "My Good Day Plan," "Core Components" of self-determination, and more.
Download the document I'm Determined: Self-Determination Toolbox (PDF)
---
This page was updated October 26, 2017